Expanding upon existing student apartments at Student One, Wharf Street, BROWNS English Language School (BROWNS) is thrilled to announce the exciting addition of an exclusive 5-bedroom apartment available at Student One, Elizabeth Street in Brisbane. These vibrant and modern apartments are available exclusively for BROWNS students.
Here's what you can expect from this new apartment:
Size and Space: The 5-bedroom apartment at Student One, Elizabeth Street provides ample room for students to live and study comfortably. With private bedrooms and well-appointed communal spaces, including a living room, dining area, and kitchen, students will have plenty of space to relax, socialise, and enjoy meals with their fellow BROWNS students.
Modern Amenities: Each apartment is equipped with modern amenities to enhance the living experience in Brisbane city. Enjoy features such as high-speed internet, air conditioning, contemporary furnishings, and a well-equipped kitchen, ensuring their stay is convenient and enjoyable.
Exclusive BROWNS Community: By opting for a private room in one of BROWNS' 5-bedroom apartments at Student One, students will become part of an exclusive BROWNS student community. Living alongside their fellow BROWNS peers allows students to forge lasting friendships, practice English skills, and create cherished memories together.
We understand that finding suitable accommodation is a crucial aspect for your study abroad experience. By expanding our offerings to include Student One, Elizabeth Street, we aim to provide additional options that align with students' needs and preferences.
Please note that availability is limited, so we encourage you to secure your spot early. To book or enquire about these exclusive 5-bedroom apartments, please contact our dedicated accommodation team at https://brownsenglish.edu.au/contact-us
We look forward to welcoming you to the BROWNS community and ensuring your stay at Student One is nothing short of extraordinary.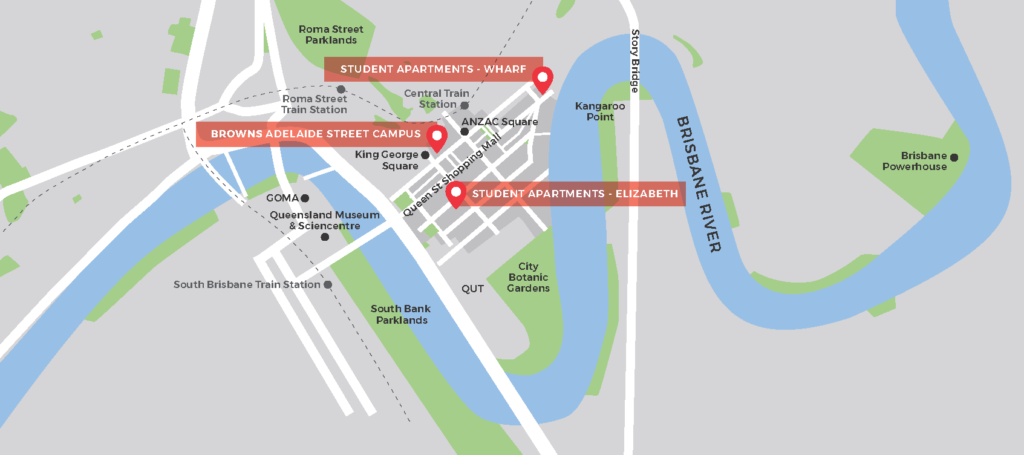 ---
Since 2003, BROWNS English Language School has delivered world-class English Language training to international students from around the world. More than 35,000 students from 102 nationalities have completed a BROWNS program, making BROWNS one of the leading private ELICOS provider in Queensland for adults and young learners.
Website: https://www.brownsenglish.edu.au
Facebook: https://www.facebook.com/brownsenglishschool
Instagram: https://www.instagram.com/brownsaustralia/
Linkedin: https://www.linkedin.com/school/browns-english-language-school
BROWNS English Language School Pty Ltd trading as BROWNS English Language School and BROWNS Professional | CRICOS Provider Number: 02663M | ABN: 31 111 453 831 | RTO Code: 31998 | CRICOS Course Code: 080399J | Student One Brisbane | Study English in Brisbane & Gold Coast